We found a perfect way to represent our Midwest pride with the Leather Lowry Cuff for Apple Watch Series 1 & 2. With rugged but soft leather, it easily forms to the wearer's wrist while offering a modern callback to traditional watches and it's hand finished rugged stitching creates a relaxed strap that can easily be worn from the office to a night out with ease. In addition to being amazingly cool, this is a leather Apple Watch band that has some interesting origins too...
Minnesota Origins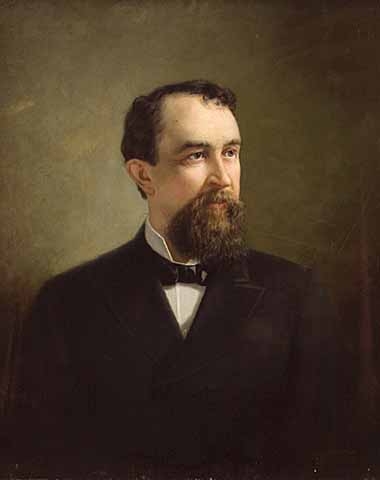 The biggest point of pride with this Apple Watch cuff is the homage to the great city of Minneapolis, and Thomas Lowry who was instrumental in its rise. Made on the banks of the Mississippi river in partnership with the Horween Tannery, the Lowry cuff offers a look into leather making that has been in existence since 1905.
Walk around Minneapolis and you are sure to see at least a few homages to Thomas Lowry. He was a startup entrepreneur, who came from humble beginnings and soon changed the landscape of Minneapolis and St. Paul. His efforts include a booming streetcar business, as well as being instrumental in the growth of railways, libraries, hydro plants, hotels, public parks, and boasting a pretty great beard to boot. He not only boosted the economy in Minneapolis and St. Paul but acted as a benefactor to assist in urban development to create the metropolis it has become today.
With a company based in Minneapolis, it's no wonder we finally paid tribute to one of the great founders of our city. As startup entrepreneurs we felt it was only a matter of time till we acknowledged one of the great men that built the city on who's foundation hundreds of small businesses have thrived.
The Details
The Lowry Cuff boasts full-grain vegetable-tanned leather from the Horween Tannery and is available for the 42mm Apple Watch Series 1&2 with a new longer sizing (125-215mm). The soft suede interior makes it incredibly comfortable to wear while the 3 color options let's you pick and choose between American Tan, Chestnut and Galloper Black. Each band is signed by the craftsman who built it and comes with a 25 year leather warranty.
Besides the numbers, the cuff offers the wearer an instantly comfortable fit with the supple leather molding to the wrist of the wearer, while offering sturdy lugs and buckles to let the band last for years to come. Because of the nature of leather, it will age overtime into a gorgeous finish and become incredibly unique with extended use.
Minnesotan Origins, Minnesota Pride
With its sturdy and signature design, the Lowry cuff stands out as one of a kind. It boasts a soft feel and strong design with Minnesotan roots even Prince would be proud of. The unique cuff design molds perfectly to the wrist of the wearer and with leather approved of by one of the oldest tanneries in the United States, it offers a timeless piece fit for any collection.